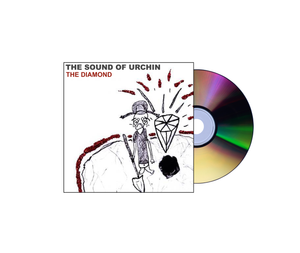 The Diamond CD:
Out of print 2005 CD release on Hybrid Recordings
Urchin's 2nd full length album
Produced by Adam Schlesinger
Mixed By Chris Shaw
Featuring guest guitar by James Iha (Smashing Pumpkins) and Jay Jay French (Twisted Sister)
TRACK LISTING:
Police Helicopters Over Brooklyn

The Jack-O-Lantern

There Are People in the Clouds
Bomb Me
Dracula Bite
White Dove
Blown Away
Howling at the Moon
Sometimes
The Door
Last December
The Diamond (Bonus Track)
Rock n' Roll Forever (

Bonus Track)

Times Square 5:00 A.M. (Bonus Track)
New York's the Sound of Urchin manage to borrow from rock's recent past to create a diverse, energetic album called The Diamond that more often than not feels inspired and sounds unique. Produced by Fountains of Wayne's own Adam Schlesinger, the disc gets off on the right note with "Police Helicopters Over Brooklyn," an homage to hot asphalt that pulls elements of the Foo Fighters and Pavement into the approach. Blistering rockers like "The Jack-O-Lantern" -- which features guest guitar by the band's manager, Twisted Sister's J.J. French -- and the Mudhoney-esque fury of "White Dove" take joyous flight, while the peculiarly funny "There Are People in the Clouds" seems to be inspired by Ween. When the Sound of Urchin -- singer/drummer Tomato 11, guitarists B. lll and Seahag, plus bassist Doo Doo Brown -- head into the hook-laden alt-pop terrain perfected by the likes of Schlesinger's band or, say, the Gigolo Aunts, they assert just how skilled they really are. The Sound of Urchin may be all over the map on The Diamond, but the band shines just the same.